Tell us about the location you chose for your SUNLOUNGER short story… St Barts in the French West Indies is by far the most glamorous, exotic and fabulous place I have ever been. My last novel, TOO HOT TO HANDLE was set there, and I was lucky enough to spend 10 days doing extensive, erm, research on the island with my friend, Laura (see pic below, Katie is on the right.) Every time I write about St Barts I get to escape from the British drizzle and imagine myself back on Shell Beach with a Pina Colada in my hand, watching the sunset over the Caribbean. Sigh…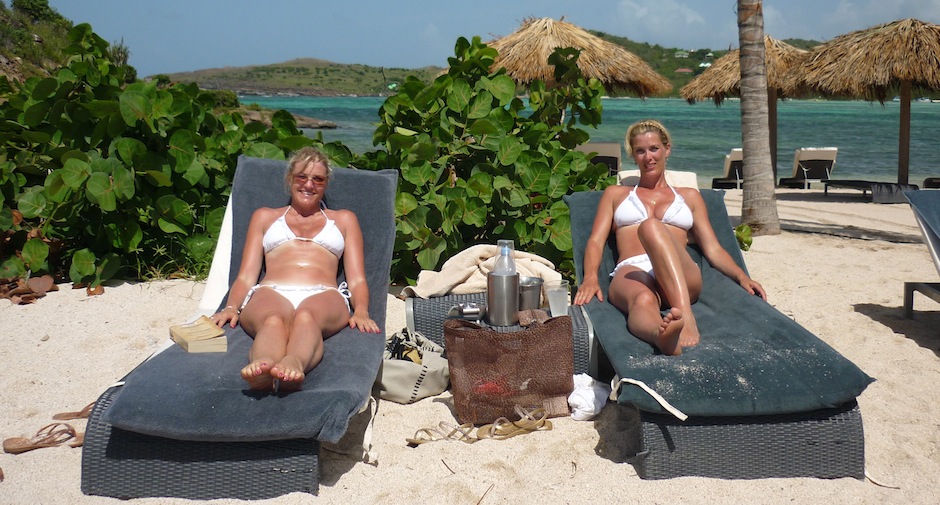 Have any of your books featured exotic locations? I learned early on in my career to make a point of setting at least part of every novel somewhere hot and sunny – that way I could have more holidays every year and call them 'work'! So, my novels have been set all over the world – Marbella, Monaco, New York, Los Angeles, Cannes, Rome and St Barts of course!
If you could live anywhere in the world… My children have already been told that the minute they're packed off to university Mummy is running away to the South of France. I LOVE the South of France. I first went as a little girl with my parents and my sister and there's nowhere else I love more – the weather, the beaches, the glamour, the people, the patisseries, the fashion! I plan to get an apartment somewhere on the coast between Monaco and St Tropez – I can't decide between Nice or Antibes at the moment (but my son is only seven so I have plenty of time to make up my mind). I'm going to have a balcony with a sea view, a ridiculously small dog, a ridiculously large wardrobe full of chiffon kaftans, silk headscarfs and jewelled sandals. And, as I grow old disgracefully, I may also have a facelift and a toyboy.
Which destination have you returned to the most? See above! I first visited the South of France when I was eight and I've lost count of how many times I've been back. Mind you, I do have a penchant for the Greek islands. I absolutely adore Skiathos and quite fancy Santorini this year.
Favourite cuisine of the world? Oh, it has to be Italian. I was in Rome last year with my friend Pegeen and every time we ate (which was constantly!) I found myself making embarrassing 'Meg Ryan in When Harry Met Sally', noises. Good Italian food really is orgasmic. I would be enormous if I lived there (but the South of France is just over the border so I can get my pasta fix when I move there).
Favourite holiday cocktail: I find I change my drink depending on my location. I'm always up for a Mojito and feel it's my duty to taste-test them everywhere I go. Other than that, in the South of France it's champagne cocktails; in New York it has to be Cosmopolitans and in St Barts, Laura and I started drinking Pina Coladas before lunch every day. (The waiter would bring us one 'on the house' at 11.30am on the dot as we sunbathed and it would have been rude to refuse!)
Best holiday romance? I was 16, camping in Spain with my parents and my best friend, Fiona, and we met a couple of Dutch guys who were a few  years older and really cool. My Dutchman – Dennis – was absolutely beautiful. As in Male Perfection beautiful! He had long, floppy bleached blonde hair (it was the 80s!), a mahogany tan, sculpted abs and chocolate brown eyes. I couldn't believe he was real. Boys back home in Midlothian just didn't look like that! He was smart too and, much to my amazement, he was totally into me. We both cried when I had to get on my coach back to Edinburgh and we wrote to each other for a while but by Christmas I was seeing someone back home and I'd kind of forgotten him (in that careless way 16-year-olds did before Twitter and Facebook). I just stopped replying to his letters which in hindsight was rather cruel. He did wonders for my confidence at a very vulnerable age of uncertainty and angst. He made me feel grown-up and beautiful. What's more, he became my 'type' for life. Every man had to at least almost match up to the Dennis bar after that. In fact, when I introduced my sister to my partner, Matt, the first thing she said was, 'He looks just like that Dutch guy you had a holiday fling with when you were sixteen!'